Birding
Alesches' is located near the Sax-Zim Bog, an important bird area in St. Louis County in north eastern Minnesota.  The Sax-Zim Bog is defined as the area bounded on the south by St. Louis County Road 133, on the north by County Road 27, on the west by County Road 5, and on the east by US Highway 53.
This well-known bog of mixed hardwoods and Tamarack/Black Spruce covers nearly 150,000 square miles.  The number of species listed for the Sax-Zim Bog currently stands at an impressive 240 birds.  The bog attracts many in state and out of state birders looking for Great-Gray Owl, Northern-hawk Owl, Boreal Owl, Black-backed Woodpecker and Pine Grosbeak among the many other rarities that can be found here throughout the year.
During the owl irruption in 2004-2005 over 450 Great-Gray Owls were counted during a single January weekend. Winter is typically the best time to see owls and other winter visitors. This time of year also allows for better access into the bog looking for birds. Black-billed Magpies nest here and can be found throughout the year and is the most eastern population.  A link for the bird checklist for the bog is located in the right column.
For the purposes of this checklist, the four seasons are defined as:
Spring = April - May
Summer = June - July
Fall = August - November
Winter = December – March
Photo Gallery
Photos/text provided by Judd Brink, Guide/Naturalist
Hover over photos for description or click to enlarge.
Sax-Zim Bog Welcome Center for Birders and Photographers!
The Friends of Sax-Zim Bog is a nonprofit organization to support, promote and protect the Sax-Zim Bog Important Bird Area (IBA).  The new welcome center opened in 2014.  It is a "green building" that provides a place to warm up, receive birding updates, view bird feeders and also includes a restroom.
**WELCOME CENTER IS ONLY OPEN MID DECEMBER THROUGH MID MARCH**
The Sax-Zim Bog Welcome Center on Owl Avenue continues to serve as a Gateway to the Bog. The Welcome Center is open and staffed daily mid-December through mid-March. The building is open 7-days per week from 10am to 3pm.
The Welcome Center is a place to find out about the latest bird sightings, thaw out, warm up with some hot cider, buy a t-shirt or other souvenir, and use the outhouse. Over 20 bird feeders are on the grounds with a great diversity of birds visiting them.
For more information about the center and bog, visit the Friends of Sax-Zim site at www.saxzim.org.
Judd Brink, is also the owner of MN Backyard Birds a business that offers birdscaping in central Minnesota.  Pictured at right is one of several bird feeders installed at the new Welcome Center that attracts Pine and Evening Grosbeaks and many other bog birds. Enjoy and happy birding!
Enjoy and explore the Sax-Zim Bog with these special events and field trips this winter with friends or family.
https://saxzim.org/events/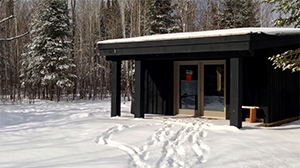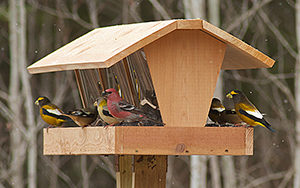 Birding Links
Judd Brink Owner/Guide - BirdMN.com or on Facebook

Friends of Sax-Zim Bog

Above photos and text provided by Judd Brink unless otherwise noted.  Judd Brink (pictured at right) is the Owner and Guide of MN Backyard Birds and one of the guides for Alesches guests and the Sax-Zim area.  For guiding info and availability please contact Judd Brink at (218) 838-4784 by email info@birdminnesota.com or visit BirdMN.com.